Tripods are not as simple as they seem. There are a surprising number of versions, materials, and functions that they serve, at all price points. A good tripod is your best friend for landscape photography because it'll allow you to take photos that would otherwise be impossible.
The main use is to get a long shutter speed without ruining the sharpness of a photograph. But they're also extremely useful for making panoramas and HDR photographs. 
The ultimate tripods for landscape photography are both sturdy and lightweight, with a pan+tilt head. But that combination comes with a pretty hefty price tag. It's certainly not the most you'll spend on a tripod — standard ones for video go as high as $5,000 on the used market — but the price tags are not insubstantial.
For instance, my favorite tripod head and tripod leg combination costs just under $1,000, but most users don't need to spend that much to get a great tripod.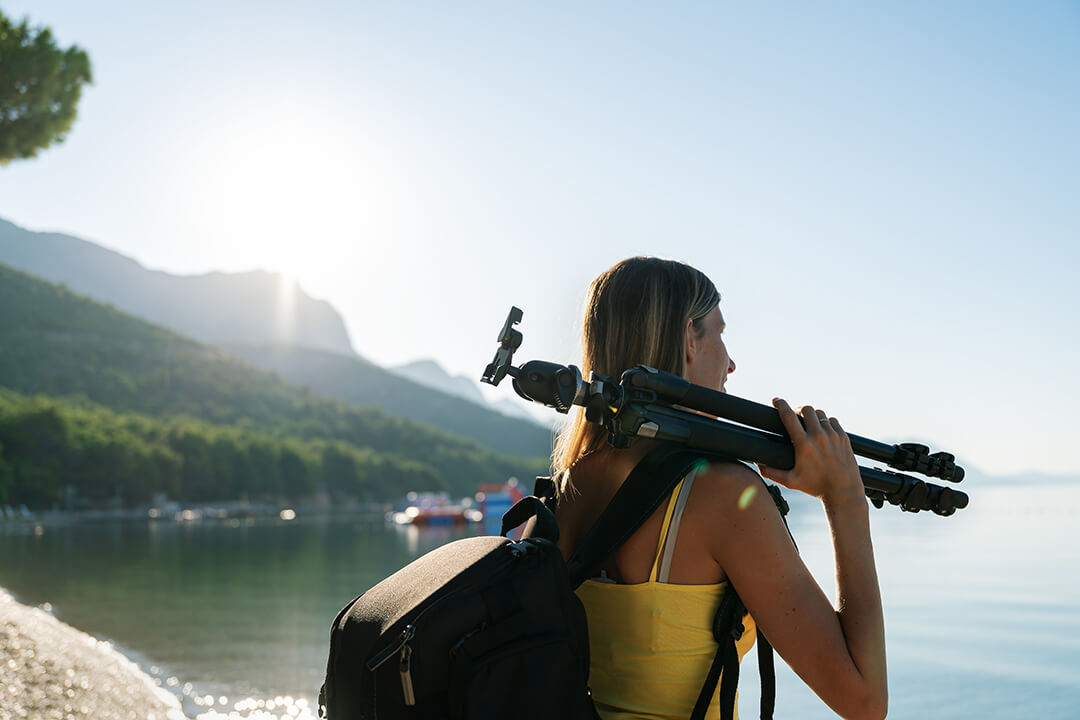 What features does a good tripod have?
For most users, I recommend getting a sturdy tripod that has three or four leg sections, the shortest center column possible, and a hook at the bottom. The hook is an extremely important feature, in that when you're taking photos on a windy day, you can attach your camera to the hook to keep it sturdier. Just be sure the bag is resting on the ground or a rock so that the wind doesn't catch the bag, and add to the shaking. 
Travel tripods often have 5 sections, which allows them to be packed smaller, but they lose a lot of stability in the process. For that reason, even though they're nice, I can't recommend them to landscape photographers who need stability to make a perfectly sharp image over a 10-30 second exposure. 
The reason to get the smallest center column possible is so you can get as low to the ground as possible. The lowest height of a tripod is limited by the size of the center column, which many manufacturers use to make their tripods taller. But maximum height is far less important for photography than minimum height. 
Some tripods will come as a set, where the manufacturer will throw in a ball head with the set of legs for a reduced price. The ball heads will work for long exposures, but when it comes to making panoramas, they're sometimes more of a hindrance than a help. It's very difficult to keep them straight for one image, let alone 5-15. When I used them in the past, I often ended up with a lot of useless white patches in my panoramas. For that reason, I'd suggest paying extra for a pan and tilt head. These will make your life so much easier and will save you money down the road.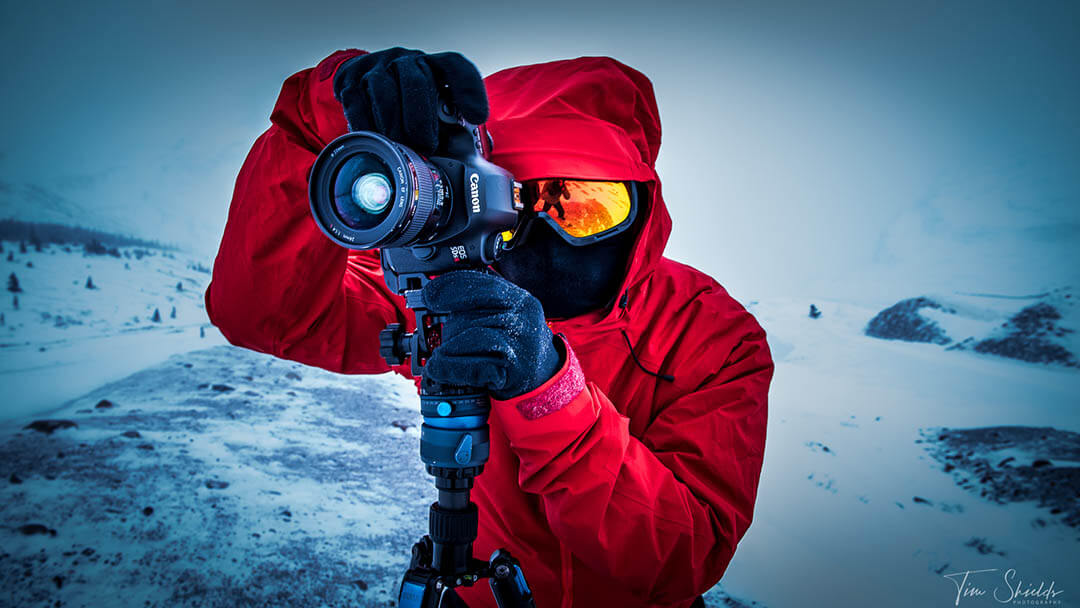 Tripod Buying Guide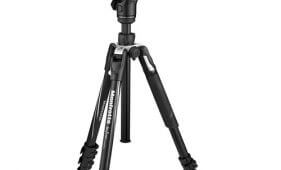 Manfrotto BeFree Advanced (find it on B&H): The BeFree series by Manfrotto are good tripods for traveling. The BeFree series are designed to be lightweight and foldable down to the smallest size possible. But that means they're also not as sturdy as some of the heavier tripods on the market, especially with heavy lens and camera combinations. When making long exposures, be sure to keep this tripod as close to the ground as possible. That way, it'll be sturdy enough to ensure there won't be any camera shake.  Be sure to look for the version with the pan and tilt head. It might cost a little bit more, but it will be able to create panoramas with ease. The ball head versions may be more convenient, but it's difficult to get straight lines when using them for panoramas.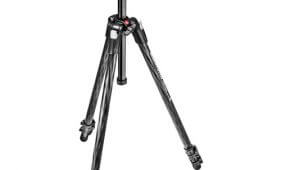 Manfrotto MK290XTC3 Carbon Fiber (Find it on B&H): Good starter tripod: Manfrotto has some issues with naming their tripods — I don't know how anyone can look at a name like that and differentiate it from the other tripods in their series. However, this tripod is one of the best starting options for new photographers. It doesn't have a hook at the bottom, but the tripod is sturdy enough to not need it when it's lower to the ground. 
The best part of this tripod is that it's sturdy enough to grow with. The pan and tilt head is an incredible place to start, as it's perfect for making panoramas. The MK290XTC3 tripod can hold up to 11lbs of camera equipment, which is more than enough for most users even with pro cameras and heavy lenses like the 70-200mm f/2.8. The latch locks are also quicker to use, and more reliable than the twist locks.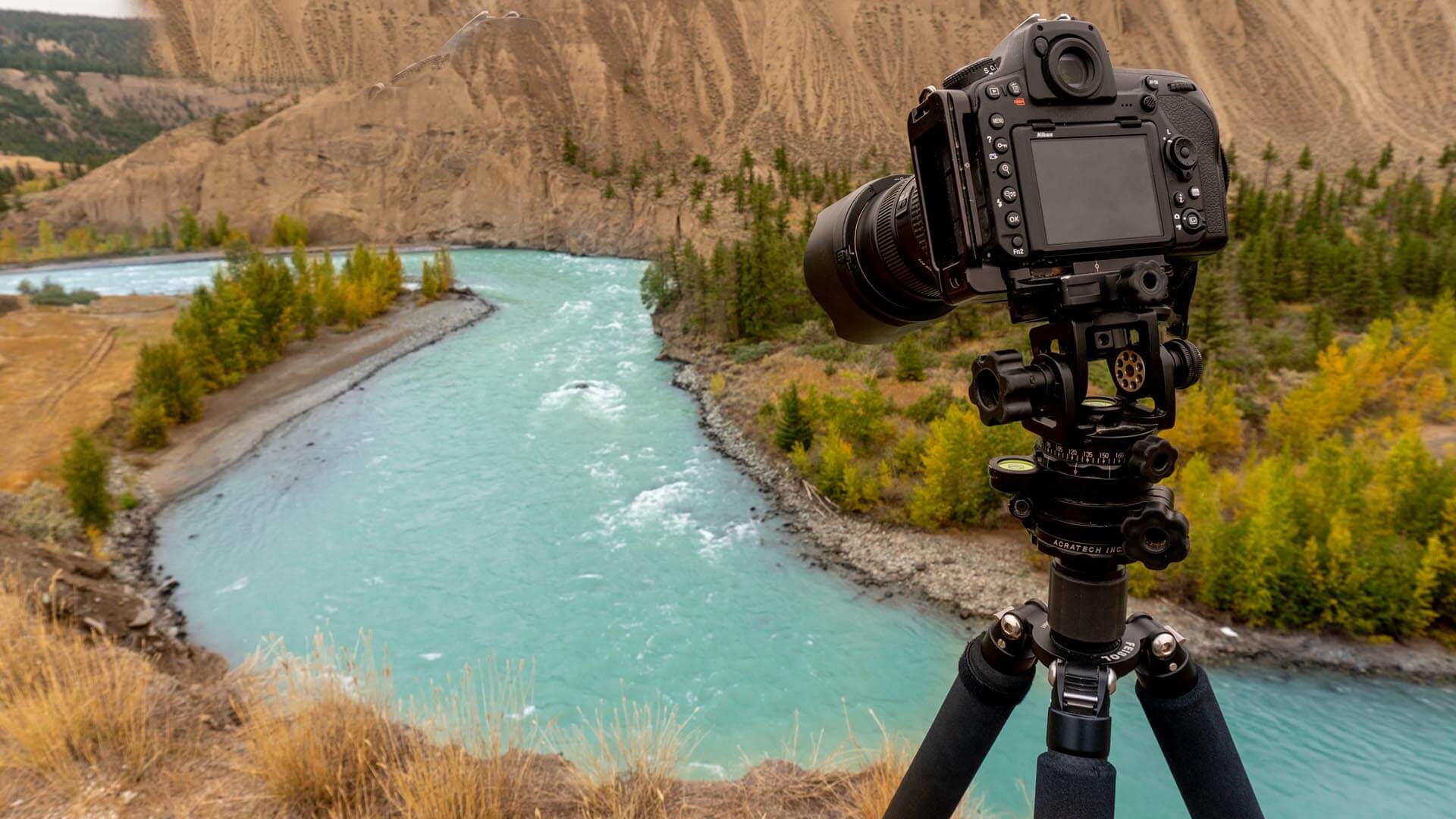 The best tripod combination
Feisol CT-3441T Legs with Acratech Panoramic  Head and Levelling Base: my personal favorite tripod option. If you have a bit more money to spend, there's no better place to put it than in this tripod.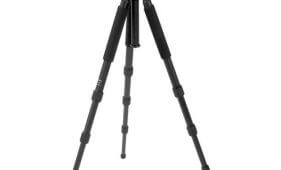 The Feisol CT3441T (Find it on B&H) is a remarkably stable and flexible set of tripod legs. These legs have four sections, which at its maximum reaches 68.9" high, and a minimum of just 14.57". It can also carry up to 45lbs of camera gear, yet it weighs in less than 2.7 lbs! The lightweight design is something that I personally always search for in a tripod. Every ounce counts when you're out on a multi-day hiking trip.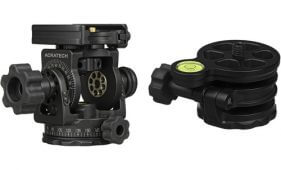 Acratech Panoramic Head and Levelling Base (Find it on B&H): This tripod head combination has been one of the best purchases of my career. The panorama head and leveling base work together perfectly. They're precise and are engineered in just the right ways to be as lightweight as possible. There's not a gram of extra material where it doesn't need to be. 
The panoramic head allows the camera to stay perfectly aligned between photos. The adjustments you make are all along only a single axis, so all lateral movements will be perfectly aligned with the last photograph. Having a tripod head that can do this is essential when you're making panoramas, especially if it's going to be over 2 or 3 rows.
This head and legs combination is also the perfect size to fit on planes. It folds down so small that I've never had a problem getting it to fit, no matter where I've gone. I wrote an entire article about how much I love this tripod setup. Read more about the Acratech and Feisol combination here.
Other accessories that make life easy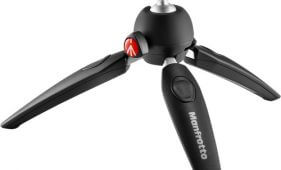 Manfrotto Pixi Mini EVO tripod (Find it on B&H): Of all tripods, this is one that I'm most excited about right now. It's a tiny, tabletop tripod that weighs less than 10 ounces. This tripod can be set up in seconds right on the ground, making it perfect for taking photos just off the road, where it's steady enough to get long exposures.
This is also the perfect tripod for when you're trying to take steady photos where you wouldn't normally be allowed a tripod. This little piece of equipment will always go unnoticed and can allow you to get stellar photographs where you wouldn't normally be able to. Tiny tripods always come in handy when you least expect them to. 
There is a cheaper version of this tripod, but it's not rated to hold as much weight as the Evo version pictured above. Meaning it can be difficult to get a steady shot with professional-quality gear.
Arca Swiss Plates: The industry-standard camera mounting system. These plates are secure and easy to set up on any camera. But more importantly, they're cheap. Buy these for each camera and just never take them off. They make setup an absolute breeze. 
L-Brackets: These are plates that mount to the bottom of your camera and allow it to be mounted in portrait orientation rather than landscape. I use these for the majority of my panoramas because it's easier to move horizontally than it is vertically. So using an L-Bracket creates a taller image, making single-row panoramas closer to a normal aspect ratio with 4 or 5 times the resolution of a single image.  
What about Monopods?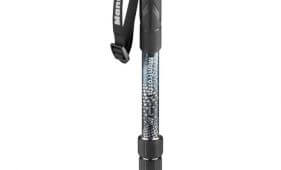 Monopods are in a special class of their own. For most users, they're not all that useful. Taking a long exposure on a monopod will introduce just as much motion blur as just shooting handheld. However, they do become important for wildlife and sports photographers using extremely heavy lenses. 
For these types of photography, you'll need to be able to move, but sometimes the lenses are so big and heavy that holding them in position for a long period of time is a difficult task. For these cases, a monopod is perfect. They take the entire weight of the lens and camera and allow the user to move fluidly as birds, or other wildlife, move across the scene. 
Some tripods can turn into monopods, however, most of those tripods can't handle the weight of lenses that require monopods in the first place. If you're shooting with lenses weighing over 10lbs, you'll need a dedicated monopod that's rated for that weight. 
In the case of monopods, one of the best options out there also happens to be one of the cheapest. The Manfrotto Element Aluminum Monopod is perfect for most users, having a weight capacity of over 33lbs while only weighing 1.1lbs itself. This monopod is cheaper, lighter, and can hold more than much of the competition. It also doesn't have the additional three feet that some monopods have, which I personally find get in the way when shooting on the uneven terrain found everywhere after stepping outside the parking lot. 
Another option for wildlife photography is to use a Gimbal Tripod Head. These tripod heads balance the camera gear perfectly on the tripod, but still allow you to move the camera and lens 360 degrees and up and down. It's now as portable as a monopod, but it allows the camera much more natural movement than when using a monopod. 
How to continue learning more about photography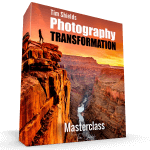 Developing skills in photography isn't always easy. It took me years of trial and error to finally get it right. Even after traveling to gorgeous locations around the Earth, there was just always something missing in the photographs. It wasn't until I learned how to plan and execute photos using my four-step system that my career really started to take off. If you'd like to skip that trial and error period and learn this simple method for taking incredible photos, sign up for my Free Online Web Class today! In there, I'll tell you about the process, and what it takes to start taking incredible, wall-worthy fine-art landscape photographs!